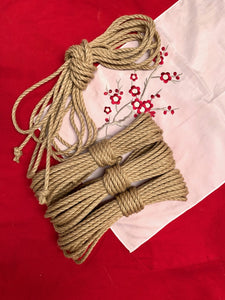 4 x 8 meter ropes of Tokyo Asanawa in 6mm or 5mm Unconditioned
So you are ready to take rope bondage seriously, and you have decided that cotton cord and hardware rope is not okay any more.
This is a no-frills intro set of our Tokyo Asanawa. The price is as low as you'll find anywhere, but this is no entry-level rope – it is used by some legit masters.
It is a loose lay, pure Japanese rope, traditional and very well suited for shibari. It ages beautifully and becomes soft and smooth. Available in 6mm and thinner 5mm, both are perfect for learning all the way up to pro.
It rewards good technique, and you should make a point of taking some classes to learn proper handling. But then again, you're already down for that.
This kit exists as a hyper value set to get you started. We have cut all frills to save you money. Expect four untreated coiled ropes straight up, or choose the conditioned option for treated rope.
Introductory, pre-Covid price!